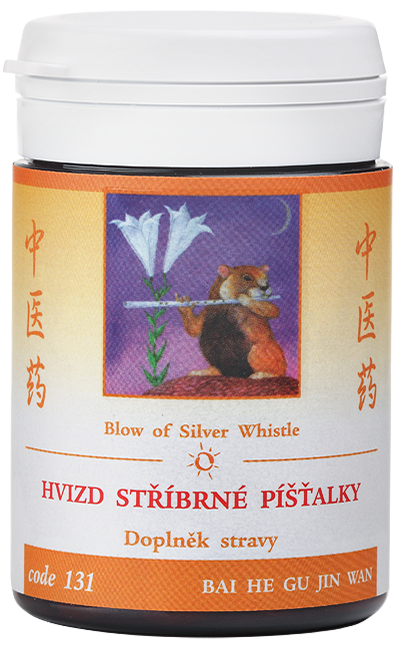 Category:
Herbal capsules
Affects based on the TCM:
Nourishes insufficient yin of the lungs and kidneys FEI/SHEN YIN XU
Moistens dry lungs FEI ZAO
Disperses phlegm TAN
Relieves cough
Usage:
Long-term dry cough, persistent after disease (chron. tussis)
Prolonged hoarseness or loss of voice (aphonia, raucedo)
Long-term bronchitis (chron. bronchitis)
Tuberculosis (pulmonary phthisis)
Irreversible enlargement of the bronchial tubes (bronchiectasis)
Spontaneous pneumothorax (spontaneous accumulation of air in the pleural cavity)
Description according to traditional Chinese medicine: This is a modification of the original traditional Chinese herbal mixture BAI HE GU JIN WAN, adjusted to meet today's needs. This herbal mixture strengthens deficient kidney and heart yin SHEN/FEI YIN XU, cools down internal heat due to deficiency RE XU and moistens internal lung dryness FEI ZAO. It is aimed at chronic pulmonary problems with dominant dry, irritating cough or expectoration of small quantities of viscous mucus (sometimes with streaks of blood), shortness of breath, sore and dry throat, night sweats, elevated temperature in the afternoon.  To be able to breathe without any problems, it is necessary to provide for lubrication of the lungs FEI with liquids JIN YE. According to Chinese medicine, the lungs FEI are a fragile organ which hates dryness ZAO. And modern people are far more prone to the drying of lung fluids FEI JIN YE than in the past, which is caused by long-term stays in air-conditioning rooms, flats with central heating and cars, as well as by smoking and due to feverish diseases resulting in this "internal oil" being burned. This deficient yin YIN XU may occur in case of chronic pulmonary diseases which dry up this oil (yin YIN XU and body fluids JIN YE XU), and it may also develop secondarily as a consequence of deficient kidney yin SHEN YIN XU. This leads to a number of long-term pulmonary problems and diseases.
Packaging: 100 tablets / 30 g (100% natural, natural cellulose max. 1% is the only binding agent; made from concentrated herbs at a ratio of 5:1, i.e. 5 g of dried herbs are used per gram of herbal tablets)
Dosage: 3 times daily 4 tablets, children over 3 years of age 3 times daily 2 tablets
More information about dosage and using herbal tablets.
Ingredients (1 g is made from 5 g herbs):
Shu di huang (Prepared Chinese Foxglove Root)
Sheng  di huang  (Chinese Foxglove Root)
Jie geng (Balloon Flower Root)
Mai men dong (Ophiopogon Tuber)
Bai he (Lily Bulb)
Bai shao (White Peony Root)
Zhe bei mu (Thunberg Fritillaria Bulb)
Dang gui (Chinese Angelica Root)
Zhi gan cao (Licorice Root)
Microcrystalline cellulose (MCC) 1%
Each batch of herbs in our products is tested in the accredited laboratory for medicines Phytax in Schlieren, Switzerland, to identify herbs, but also heavy metals (mercury, cadmium, lead, arsenic, and copper), bacteria (E. coli, Salmonella, total number of bacteria), mould, yeasts and aflatoxins. Our company TCM Herbs is the only supplier in the Czech Republic to test each batch of herbs for all herbal tables, among others for 511 types of pesticides (4 groups) because pesticides today become a worldwide problem, especially in products from the so-called Third World. Customers, in the belief that they use herbal preparations, are often, by contrast, "contaminated" with other undesirable "chemicals".
Each laboratory is different
A laboratory for dietary supplements is obliged to verify only the presence of heavy metals, mould and bacteria – but does not determine the content of pesticides. A certified laboratory for medicines, on the other hand, also identifies individual herbs and in particular tests the entire range of pesticides (at least 500 types and more). There are only a few laboratories like that in the EU and the price is adequately high. It is therefore very important today to know which laboratory tests the dietary supplement and what the tests focus on, if each batch and each herb or just a sample are tested, how many pesticides, how many additives and how many additional binding agents the product contains, etc. – otherwise consumers could be easily deceived and disappointed… (for details read Safety and quality of TCM Herbs products)
The above implies that herbal tablets and drinks of TCM Herbs are, in terms of quantity (concentration of herbs in the mixture is 5 times higher, i.e. that 1 g of a herbal tablet equals 5 g of raw herbs) and quality (absolutely unprecedented testing of each batch), among the best products we can imagine and enjoy in the area of today's Chinese medicine and natural medicine at all!