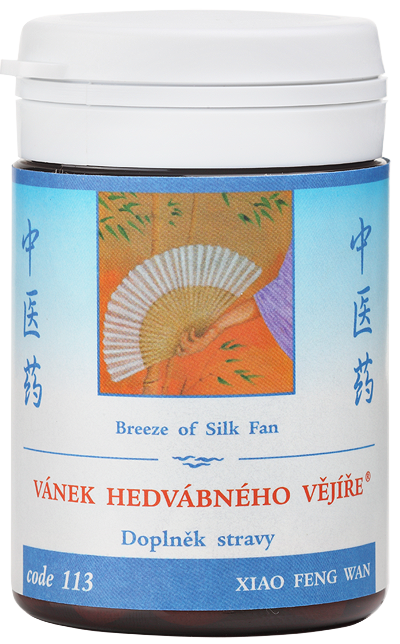 Category:
Herbal capsules
Affects based on the TCM:
Tonifies insufficient qi of spleen PI QI XU
Eliminates dampness SHI
Disperses wind FENG
Dispels heat RE
Usage:
Eczema (subacute)
Itchy skin
Swelling due to the spleen inability
Chronic diarrhoea due to ​​the spleen inability
Flatulence due to ​​the spleen inability
Conditions after use of antibiotics and corticosteroids
Description according to traditional Chinese medicine: This is a modification of the original traditional Chinese herbal mixture CHU SHI WEI LING WAN, adjusted to meet today's needs. This herbal mixture is intended for sub-acute eczema – not for acute eczema stages (burning, purulent, red) and for chronic stages (itchy, flaky), but for the transitional stage between these two eczema stages. This condition features eczema with rough, dry and swollen skin with pale spots on the body and scattered pustules with a diameter up to 0.5 cm. Because of deficient spleen qi energy PI QI XU the patient is weaker in constitution, pale, tired, suffering from flatulence and nausea or is picky when eating, with softer and thinner stools. This typically appears in children who are given poor nutrition – one-sided, irregular, or with a prevalence of dairy products, sweets and fried meals (fast food or junk food, etc.). In consequence, the spleen qi energy PI QI XU is weakened as it cannot sufficiently eliminate the harmful moisture SHI, which then accumulates and is discharged in the form of recurring eczema.  After some time the stagnating moisture SHI changes into moisture with heat SHI/RE. The skin is not sufficiently fed by the spleen's energy and is therefore rough, dry and pale, with harmful moisture constituting swollen skin and occurrence of pustules filled with fluid. To suppress these problems it is necessary not only to use this herbal mixture but also to comply with proper lifestyle, including the choice of food. In particular, omitting or limiting the consumption of white sugar and products made from it as well as pasteurized cow's milk and dairy products is a condition for success in accordance with TCM (see Skin problems). It should be suitably used with the Beverage of Chinese Sages (code 900), which significantly strengthens the spleen and dries up harmful moisture.
Packaging: 100 tablets / 30 g (100% natural, natural cellulose max. 1% is the only binding agent; made from concentrated herbs at a ratio of 5:1, i.e. 5 g of dried herbs are used per gram of herbal tablets)
Dosage: 3 times daily 4 tablets, children over 3 years of age 3 times daily 2 tablets
More information about dosage and using herbal tablets.
Ingredients (1 g is made from 5 g herbs):
Fang feng (Ledebouriella Root)
Bai xian pi (Chinese Dittany Root Cortex)
Bai zhu (Atractylodis Rhizome)
Cang zhu (Black Atractylodis Rhizome)
Fu ling (Hoelen)
Huang qin (Baical Skullcap Root)
Hua shi (Talcum)
Mai ya (Barley Sprouts)
Ze xie (Water Plantain Rhizome)
Yi yi ren (Job's Tears Seed)
Huo xiang (Wrinkled Giant Hyssop)
Zhi gan cao (Licorice Root)
Microcrystalline cellulose (MCC) 1%
Each batch of herbs in our products is tested in the accredited laboratory for medicines Phytax in Schlieren, Switzerland, to identify herbs, but also heavy metals (mercury, cadmium, lead, arsenic, and copper), bacteria (E. coli, Salmonella, total number of bacteria), mould, yeasts and aflatoxins. Our company TCM Herbs is the only supplier in the Czech Republic to test each batch of herbs for all herbal tables, among others for 511 types of pesticides (4 groups) because pesticides today become a worldwide problem, especially in products from the so-called Third World. Customers, in the belief that they use herbal preparations, are often, by contrast, "contaminated" with other undesirable "chemicals".
Each laboratory is different
A laboratory for dietary supplements is obliged to verify only the presence of heavy metals, mould and bacteria – but does not determine the content of pesticides. A certified laboratory for medicines, on the other hand, also identifies individual herbs and in particular tests the entire range of pesticides (at least 500 types and more). There are only a few laboratories like that in the EU and the price is adequately high. It is therefore very important today to know which laboratory tests the dietary supplement and what the tests focus on, if each batch and each herb or just a sample are tested, how many pesticides, how many additives and how many additional binding agents the product contains, etc. – otherwise consumers could be easily deceived and disappointed… (for details read Safety and quality of TCM Herbs products)
The above implies that herbal tablets and drinks of TCM Herbs are, in terms of quantity (concentration of herbs in the mixture is 5 times higher, i.e. that 1 g of a herbal tablet equals 5 g of raw herbs) and quality (absolutely unprecedented testing of each batch), among the best products we can imagine and enjoy in the area of today's Chinese medicine and natural medicine at all!