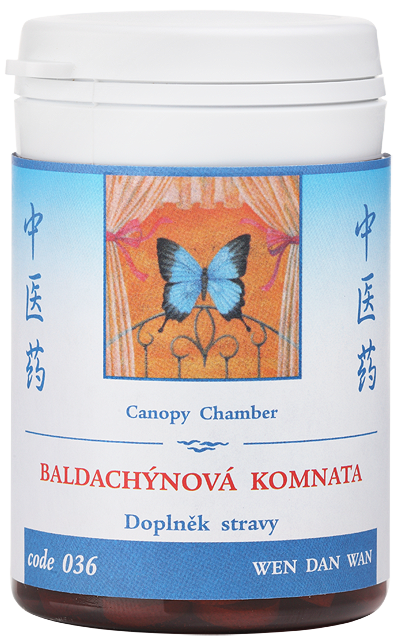 Category:
Herbal capsules
Affects based on the TCM:
Regulates flow of energy QI on the chest and releases stagnation of QI NI on the chest
Disperses hot phlegm TAN RE in the chest area, which disturbs spirit SHEN
Cools heat in the gallbladder DAN RE
Harmonizes stomach WEI
Usage:
High blood pressure (hypertension)
Angina pectoris
Cardiac extrasystoles
Chronic inflammation of the stomach (chronic gastrititis)
Inflammation of the gallbladder (cholecystitis)
Chronic inflammation of the liver (chronic hepatitis)
Morning sickness and vomiting (nausea)
Insomnia
Depression
Advanced stroke (ictus)
Description according to traditional Chinese medicine: This is a modification of the original traditional Chinese herbal mixture WEN DAN WAN, adjusted to meet today's needs. This mixture adjusts any disharmony between the stomach WEI and the gall bladder DAN, where an imbalance between these two pathways results in the formation of hot phlegm TAN RE. Phlegm TAN produced by the stomach then blocks the chest, which may be manifested by contraction, cramping and pressure on the chest with excessive secretional obstruction or salivation, sticky feeling in the mouth, sighing, feeling of discomfort on chest and above the navel. The heat of the gall bladder DAN RE climbs up and results in a feeling of bitterness in the mouth and ringing in the ears. In general, hot phlegm TAN RE then blocks the pathways, does not allow the clean and pure yang energy to ascend and feed the soul SHEN in the heart XIN and, at the same time, the cloudy yin phlegm TAN SHI climbs in the opposite direction to QI NI, which can be manifested by dizziness or vertigo, mild nausea or vomiting, irritability, timidity, jumpiness, nervousness, mental agitation, depression, palpitations, insomnia, sleep disturbed by dreams and nightmares. In severe cases this condition may even result in epilepsy. Heat in the stomach WEI RE may also lead to uncontrolled bouts of hunger and thus to obesity. But this mixture can also be used in case of loss of appetite resulting from long and serious diseases. The presence of the stomach and heart line in the middle of the tongue is also interesting; it stretches from the middle of the tongue (stomach WEI) to the tip (heart XIN), but compared with other lines (usually narrow and deep), this line is broad and flat along the entire course!
Packaging: 100 tablets / 30 g (100% natural, natural cellulose max. 1% is the only binding agent; made from concentrated herbs at a ratio of 5:1, i.e. 5 g of dried herbs are used per gram of herbal tablets)
Dosage: 3 times daily 4 tablets, children over 3 years of age 3 times daily 2 tablets
More information about dosage and using herbal tablets.
Ingredients (1 g is made from 5 g herbs):
Dan shen (Red Sage Root)
Da zao (Jujube Berry)
Chen pi (Tangerine Peel)
Zhi ban xia (Pinellia Rhizome)
Zhu ru (Bamboo Shavings)
Fu ling (Hoelen)
Zhi gan cao (Licorice Root)
Zhi shi (Immature Bitter Orange)
Microcrystalline cellulose (MCC) 1%
Each batch of herbs in our products is tested in the accredited laboratory for medicines Phytax in Schlieren, Switzerland, to identify herbs, but also heavy metals (mercury, cadmium, lead, arsenic, and copper), bacteria (E. coli, Salmonella, total number of bacteria), mould, yeasts and aflatoxins. Our company TCM Herbs is the only supplier in the Czech Republic to test each batch of herbs for all herbal tables, among others for 511 types of pesticides (4 groups) because pesticides today become a worldwide problem, especially in products from the so-called Third World. Customers, in the belief that they use herbal preparations, are often, by contrast, "contaminated" with other undesirable "chemicals".
Each laboratory is different
A laboratory for dietary supplements is obliged to verify only the presence of heavy metals, mould and bacteria – but does not determine the content of pesticides. A certified laboratory for medicines, on the other hand, also identifies individual herbs and in particular tests the entire range of pesticides (at least 500 types and more). There are only a few laboratories like that in the EU and the price is adequately high. It is therefore very important today to know which laboratory tests the dietary supplement and what the tests focus on, if each batch and each herb or just a sample are tested, how many pesticides, how many additives and how many additional binding agents the product contains, etc. – otherwise consumers could be easily deceived and disappointed… (for details read Safety and quality of TCM Herbs products)
The above implies that herbal tablets and drinks of TCM Herbs are, in terms of quantity (concentration of herbs in the mixture is 5 times higher, i.e. that 1 g of a herbal tablet equals 5 g of raw herbs) and quality (absolutely unprecedented testing of each batch), among the best products we can imagine and enjoy in the area of today's Chinese medicine and natural medicine at all!