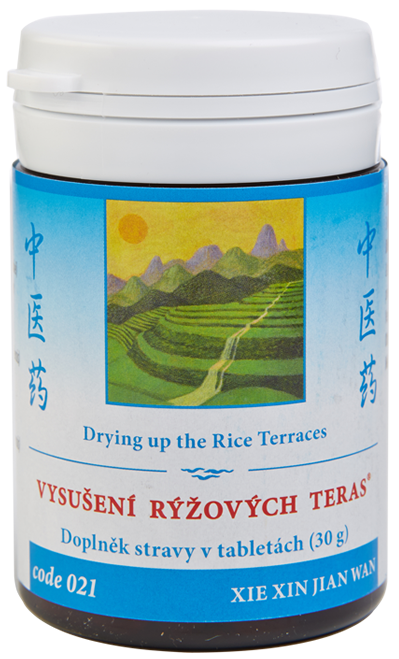 Category:
Herbal capsules
Affects based on the TCM:
Eliminates dampness and heat SHI/RE and hot toxin RE DU from the stomach and intestines
Cools fire HUO from the middle warmer
Disperses accumulations of skin (abscesses, furuncles, ulcers, eczemas, acne…
Usage:
Acute and chronic gastritis
Crohn's disease, ulcerative colitis
Acute and chronic diarrhoea
Heartburn
Acne
Psoriasis
Eczemas
Description according to traditional Chinese medicine: This is a modification of the original traditional Chinese herbal mixture XIE XIN JIAN WAN, adjusted to meet today's needs. The herbs in the mixture are among the coldest in the whole history of Chinese phytotherapy and are therefore used where TCM sees an abundance of heat and moisture SHI/RE and hot toxins RE DU, in particular in the middle burner, i.e. in the stomach and intestine pathways. This situation most often occurs because of unhealthy food and lifestyle in terms of meals (quantity and quality – fried, grilled, fat, sweet, hot…)  as well as drinks (alcohol, milk, sweet drinks…). Such a condition refers to any inflammatory disease, acute or chronic, on the stomach and large intestine pathways. This type of patient is usually "moist and greasy", with matt yellow skin, sweaty, feeling "heavy", in particular after meals, with difficult digestion, stomach ache after meals and stools, flatulence, bloating, belching, heartburn, sticky feeling in the mouth, aphtha, gum bleeding, periodontosis, odour in the mouth, thin stools or diarrhoea with phlegm, face pains, stuffy nose or thick, sticky nasal discharge, thirst without the need to drink, feeling of hotness, snoring at night… In the digestive system this condition is manifested e.g. by various inflammations of the intestines (Crohn's disease, ulcerative colitis), stomach inflammations (acute and chronic gastritis), acute and chronic diarrhoea, haemorrhoids, etc. Since the stomach and large intestine pathway is linked to the skin, these difficulties are also visible on the skin, especially in the form of acne, eczema, seborrhoeic dermatitis, psoriasis (also in the hair), etc. in the face. It is obvious that each of us needs to cleanse their Augean stables from time to time, and this mixture is perfect for that!
Packaging: 100 tablets / 30 g (100% natural, natural cellulose max. 1% is the only binding agent; made from concentrated herbs at a ratio of 5:1, i.e. 5 g of dried herbs are used per gram of herbal tablets)
Dosage: 3 times daily 4 tablets, children over 3 years of age 3 times daily 2 tablets
More information about dosage and using herbal tablets.
Ingredients (1 g is made from 5 g herbs):
Qing pi (Green Tangerine Peel)
Yin chen hao (Virgate Wormwood)
Zhi mu (Anemarrhena Rhizome)
Ban lan gen (Woad Root)
Huang qin (Baical Skullcap Root)
Huo xiang (Wrinkled Giant Hyssop)
Chai hu (Bupleurum Root)
Jin qian cao (Asian Moneywort Herb)
Bai shao (White Peony Root)
Yu jin (Curcuma Tuber)
Zhi zi (Cape Jasmine Fruit)
Microcrystalline cellulose (MCC) 1%
Each batch of herbs in our products is tested in the accredited laboratory for medicines Phytax in Schlieren, Switzerland, to identify herbs, but also heavy metals (mercury, cadmium, lead, arsenic, and copper), bacteria (E. coli, Salmonella, total number of bacteria), mould, yeasts and aflatoxins. Our company TCM Herbs is the only supplier in the Czech Republic to test each batch of herbs for all herbal tables, among others for 511 types of pesticides (4 groups) because pesticides today become a worldwide problem, especially in products from the so-called Third World. Customers, in the belief that they use herbal preparations, are often, by contrast, "contaminated" with other undesirable "chemicals".
Each laboratory is different
A laboratory for dietary supplements is obliged to verify only the presence of heavy metals, mould and bacteria – but does not determine the content of pesticides. A certified laboratory for medicines, on the other hand, also identifies individual herbs and in particular tests the entire range of pesticides (at least 500 types and more). There are only a few laboratories like that in the EU and the price is adequately high. It is therefore very important today to know which laboratory tests the dietary supplement and what the tests focus on, if each batch and each herb or just a sample are tested, how many pesticides, how many additives and how many additional binding agents the product contains, etc. – otherwise consumers could be easily deceived and disappointed… (for details read Safety and quality of TCM Herbs products)
The above implies that herbal tablets and drinks of TCM Herbs are, in terms of quantity (concentration of herbs in the mixture is 5 times higher, i.e. that 1 g of a herbal tablet equals 5 g of raw herbs) and quality (absolutely unprecedented testing of each batch), among the best products we can imagine and enjoy in the area of today's Chinese medicine and natural medicine at all!