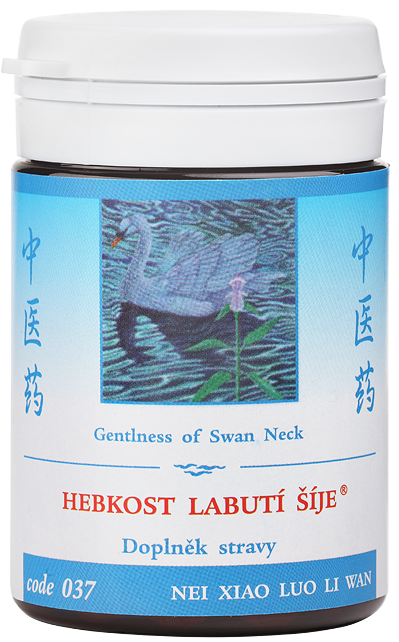 Category:
Herbal capsules
Affects based on the TCM:
Regulates flow of energy QI ZHI and blood YU XUE
Disperses phlegm TAN
Dispels hotness RE
Disperses nodules
Usage:
Enlarged submaxillary and cervical lymph nodes (Lymfadenititis submandibularis et cervicalis)
Enlarged adenoids in children (Adenoid hypertrophy)
Enlarged thyroid gland (goiter)
Cervical sores on the neck (scrofula)
Repeated inflammation of the skin on the neck (abscesses)
Description according to traditional Chinese medicine: This is a modification of the original traditional Chinese herbal mixture NEI XIAO LUO LI WAN, adjusted to meet today's needs. This herbal mixture reduces lymph node swelling and abscesses (sores) in the neck area, enlarged thyroid, and also reduces the tonsils in children. According to traditional Chinese medicine, this pathology is caused by stagnating qi energy QI ZHI and blood YU XUE in the area of the neck, underscored by stagnating pathological phlegm TAN. This phlegm TAN is most often caused by excessive consumption of dairy products and sweets, in particular in little children who have a special tendency to long-time enlarged neck nodes even after ordinary infections. Any such stagnation changes into heat RE sooner or later, so the tendency to repeated inflammations is more than obvious and the vicious circle closes. The effects of this herbal mixture therefore consist in the cooling of heat RE, stirring up of stagnation of QI ZHI and blood YU XUE and draining of excessive phlegm TAN from the neck area.
Packaging: 100 tablets / 30 g (100% natural, natural cellulose max. 1% is the only binding agent; made from concentrated herbs at a ratio of 5:1, i.e. 5 g of dried herbs are used per gram of herbal tablets)
Dosage: 3 times daily 4 tablets, children over 3 years of age 3 times daily 2 tablets
More information about dosage and using herbal tablets.
Ingredients (1 g is made from 5 g herbs):
Xia ku cao (Selfheal Spike)
Hai ge ke (Clam)
Bo he (Peppermint)
Dang gui (Chinese Angelica Root)
Hai zao (Sargassum)
Chen pi (Tangerine Peel)
Jie geng (Balloon Flower Root)
Lian qiao (Forsythia Fruit)
Mang xiao (Glauber's Salt)
Shan zhu yu (Asiatic Cornelian Cherry Fruit)
Tian hua fen (Snakegourd Root)
Zhe bei mu (Thunberg Fritillaria Bulb)
Zhi gan cao (Licorice Root)
Microcrystalline cellulose (MCC) 1%
Each batch of herbs in our products is tested in the accredited laboratory for medicines Phytax in Schlieren, Switzerland, to identify herbs, but also heavy metals (mercury, cadmium, lead, arsenic, and copper), bacteria (E. coli, Salmonella, total number of bacteria), mould, yeasts and aflatoxins. Our company TCM Herbs is the only supplier in the Czech Republic to test each batch of herbs for all herbal tables, among others for 511 types of pesticides (4 groups) because pesticides today become a worldwide problem, especially in products from the so-called Third World. Customers, in the belief that they use herbal preparations, are often, by contrast, "contaminated" with other undesirable "chemicals".
Each laboratory is different
A laboratory for dietary supplements is obliged to verify only the presence of heavy metals, mould and bacteria – but does not determine the content of pesticides. A certified laboratory for medicines, on the other hand, also identifies individual herbs and in particular tests the entire range of pesticides (at least 500 types and more). There are only a few laboratories like that in the EU and the price is adequately high. It is therefore very important today to know which laboratory tests the dietary supplement and what the tests focus on, if each batch and each herb or just a sample are tested, how many pesticides, how many additives and how many additional binding agents the product contains, etc. – otherwise consumers could be easily deceived and disappointed… (for details read Safety and quality of TCM Herbs products)
The above implies that herbal tablets and drinks of TCM Herbs are, in terms of quantity (concentration of herbs in the mixture is 5 times higher, i.e. that 1 g of a herbal tablet equals 5 g of raw herbs) and quality (absolutely unprecedented testing of each batch), among the best products we can imagine and enjoy in the area of today's Chinese medicine and natural medicine at all!