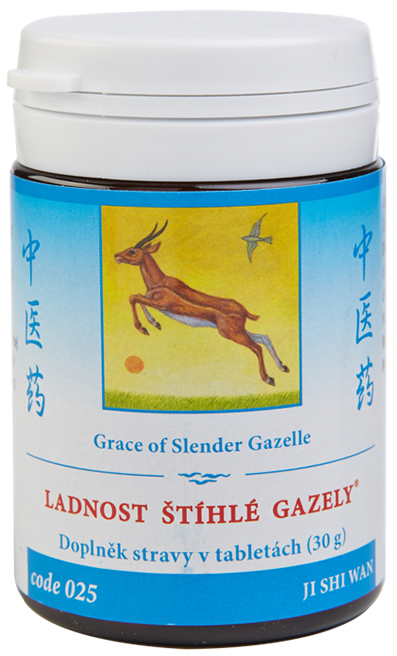 Category:
Herbal capsules
Affects based on the TCM:
Eliminates stagnation and accumulation of food JI SHI
Eliminates stagnation of qi QI ZHI from the middle warmer ZHENG JIAO
Dries harmful dampness SHI from the middle warmer ZHENG JIAO
Harmonizes the central warmer ZHENG JIAO and function of the spleen PI and stomach WEI
Drains dampness and heat SHI/RE from the bottom warmer XIA JIAO
Brisks up blockade of blood YU XUE and disperses accumulations
Usage:
Obesity
Excessive hunger or excessive craving for sweets
Digestive discomfort – feeling of heaviness after eating
Increased cholesterol and blood lipids
Swelling of the body due to water retention
Description according to traditional Chinese medicine: This is a modern herbal mixture, tailored to the needs of the modern person and their "lifestyle", resulting in obesity and various digestive disorders. It contains several groups of Chinese herbs such as aromatic herbs, which dry up the harmful moisture SHI and dissolve phlegm TAN, herbs draining water TAN SHI and moisture SHI through urination, herbs removing food stagnation JI SHI from the middle burner ZHENG JIAO and harmonizing digestion, herbs eliminating stagnation of the qi energy QI ZHI and finally also herbs which eliminate moisture and heat SHI/RE from the lower burner. More information on this topic is available here: Cholesterol and obesity from the point of view of TCM.
Packaging: 100 tablets / 30 g (100% natural, natural cellulose max. 1% is the only binding agent; made from concentrated herbs at a ratio of 5:1, i.e. 5 g of dried herbs are used per gram of herbal tablets)
Dosage: 3 times daily 4 tablets, children over 3 years of age 3 times daily 2 tablets
More information about dosage and using herbal tablets.
Ingredients (1 g is made from 5 g herbs):
Yu mi cu (Cornsilk)
Can dou (Broad Bean)
Bai bian dou (Hyacinth Bean)
Fu ling (Hoelen)
Huang qi (Astragalus Root)
Sha ren (Amomum Fruit)
Mai ya (Barley Sprouts)
Hou po (Magnolia Bark)
Chen pi (Tangerine Peel)
Chai hu (Bupleurum Root)
Zhi ban xia (Pinellia Rhizome)
Shen qu (Medicated Leaven)
Microcrystalline cellulose (MCC) 1%
Each batch of herbs in our products is tested in the accredited laboratory for medicines Phytax in Schlieren, Switzerland, to identify herbs, but also heavy metals (mercury, cadmium, lead, arsenic, and copper), bacteria (E. coli, Salmonella, total number of bacteria), mould, yeasts and aflatoxins. Our company TCM Herbs is the only supplier in the Czech Republic to test each batch of herbs for all herbal tables, among others for 511 types of pesticides (4 groups) because pesticides today become a worldwide problem, especially in products from the so-called Third World. Customers, in the belief that they use herbal preparations, are often, by contrast, "contaminated" with other undesirable "chemicals".
Each laboratory is different
A laboratory for dietary supplements is obliged to verify only the presence of heavy metals, mould and bacteria – but does not determine the content of pesticides. A certified laboratory for medicines, on the other hand, also identifies individual herbs and in particular tests the entire range of pesticides (at least 500 types and more). There are only a few laboratories like that in the EU and the price is adequately high. It is therefore very important today to know which laboratory tests the dietary supplement and what the tests focus on, if each batch and each herb or just a sample are tested, how many pesticides, how many additives and how many additional binding agents the product contains, etc. – otherwise consumers could be easily deceived and disappointed… (for details read Safety and quality of TCM Herbs products)
The above implies that herbal tablets and drinks of TCM Herbs are, in terms of quantity (concentration of herbs in the mixture is 5 times higher, i.e. that 1 g of a herbal tablet equals 5 g of raw herbs) and quality (absolutely unprecedented testing of each batch), among the best products we can imagine and enjoy in the area of today's Chinese medicine and natural medicine at all!