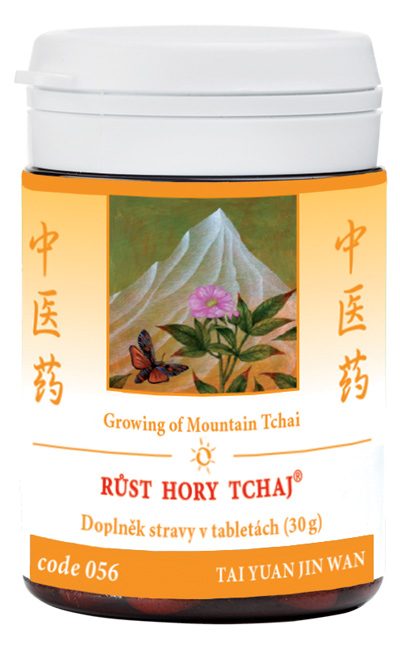 Category:
Herbal capsules
Affects based on the TCM:
Strengthens deficient Kidney essence SHEN JING XU
Nourishes deficient blood XUE XU
Strengthens deficient Spleen Qi PI QI XU
Anchors the foetus in the uterus
Comforts mother in pregnancy
Usage:
For the successful course of pregnancy (both the foetus and the mother)
Description according to traditional Chinese medicine: This is a modification of the original traditional Chinese herbal mixture TAI YUAN JIN WAN, adjusted to meet today's needs. Bringing healthy and strong descendants was among the biggest wishes of each family in old China. The health of the mother before and during pregnancy and after childbirth was carefully monitored to avoid complications which would often lead to a family disaster in the old times. Dietetic measures, based on varied nutrition with a prevalence of cereals, vegetables and fish, were complemented with nutrient herbs, which can be found in this mixture. This herbal mixture can be used as soon as pregnancy is identified, optimally for the entire pregnancy until childbirth – the reward is a healthy and "high-quality" baby with solid fundamentals (healthy, resistant core) from the intrauterine period for the whole life! Simply put, the tested words apply here, too: If each of us is made of quartz, the whole nation will be a single block (of course, this mixture can also be used at other times and where there are signs of qi energy deficiency QI XU appear, along with signs of blood deficiency XU XUE and deficiency in the essence of the kidneys SHEN JING XU).
It is suitable for use throughout pregnancy.
Packaging: 100 tablets / 30 g (100% natural, natural cellulose max. 1% is the only binding agent; made from concentrated herbs at a ratio of 5:1, i.e. 5 g of dried herbs are used per gram of herbal tablets)
Dosage: 3 times daily 4 tablets, children over 3 years of age 3 times daily 2 tablets
Ingredients (1 g is made from 5 g herbs):
Dang shen (Codonopsis Root)
Huang qi (Astragalus Root)
Sheng di huang (Chinese Foxglove Root)
Bai shao (White Peony Root)
Bai zhu (Atractylodis Rhizome)
Du zhong (Eucommia Bark)
Chen pi (Tangerine Peel)
Zhi gan cao (Licorice Root)
Microcrystalline cellulose (MCC) 1%
Each batch of herbs in our products is tested in the accredited laboratory for medicines Phytax in Schlieren, Switzerland, to identify herbs, but also heavy metals (mercury, cadmium, lead, arsenic, and copper), bacteria (E. coli, Salmonella, total number of bacteria), mould, yeasts and aflatoxins. Our company TCM Herbs is the only supplier in the Czech Republic to test each batch of herbs for all herbal tables, among others for 511 types of pesticides (4 groups) because pesticides today become a worldwide problem, especially in products from the so-called Third World. Customers, in the belief that they use herbal preparations, are often, by contrast, "contaminated" with other undesirable "chemicals".
Each laboratory is different
A laboratory for dietary supplements is obliged to verify only the presence of heavy metals, mould and bacteria – but does not determine the content of pesticides. A certified laboratory for medicines, on the other hand, also identifies individual herbs and in particular tests the entire range of pesticides (at least 500 types and more). There are only a few laboratories like that in the EU and the price is adequately high. It is therefore very important today to know which laboratory tests the dietary supplement and what the tests focus on, if each batch and each herb or just a sample are tested, how many pesticides, how many additives and how many additional binding agents the product contains, etc. – otherwise consumers could be easily deceived and disappointed… (for details read Safety and quality of TCM Herbs products)
The above implies that herbal tablets and drinks of TCM Herbs are, in terms of quantity (concentration of herbs in the mixture is 5 times higher, i.e. that 1 g of a herbal tablet equals 5 g of raw herbs) and quality (absolutely unprecedented testing of each batch), among the best products we can imagine and enjoy in the area of today's Chinese medicine and natural medicine at all!