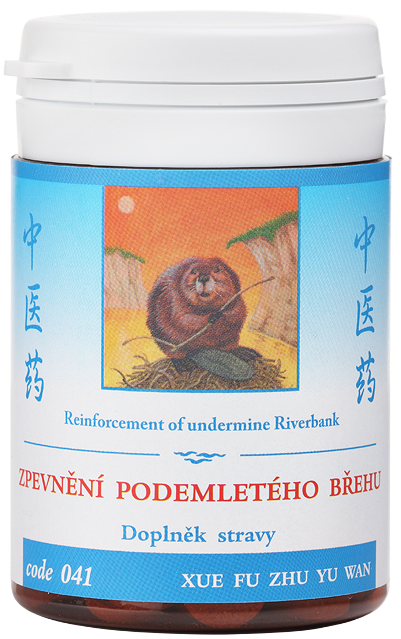 Category:
Herbal capsules
Affects based on the TCM:
Brisks up blockade of blood YU XUE
Sets in motion stagnant liver GAN QI ZHI
Disperses blood clots YU LUO
Relieves pain
Usage:
Headaches, chest pains, intercostal neuralgia, trigeminal neuralgia
Coronary heart disease, angina pectoris, cor pulmonale/pulmonary heart disease, myocardial infarction, arrhythmia
Conditions after stroke, embolism, bradycardia
Painful menstruation, lacking menstruation, premenstrual syndrome, climacteric problems
Myomas, uterine polyps, endometriosis, polycystic ovary syndrome (PCO), bartholinitis
Breast cancer, stomach cancer, esophageal cancer, lung cancer, brain cancer
Description according to traditional Chinese medicine: This is a modification of the original traditional Chinese herbal mixture XUE FU ZHU YU WAN, adjusted to meet today's needs. This herbal mixture has 2 basic effects – dissolves blood blocks YU XUE in the upper burner (from the diaphragm up) and dissolves stagnation of the liver qi energy GAN QI ZHI.  In practice, you can imagine this condition as "clogged gutter or tying-up in the waist". It is the strongest herbal mixture against blood blocks YU XUE and stagnating qi energy QI ZHI. This is duly and sufficiently reflected in the diseases and symptoms resulting from this Chinese pathology – strong, sharp, fixed and chronic pains from the waist up – pain under the ribs, in the chest, head, trigeminal neuralgia, intercostal nerve pain, joint pain, chest and neck pain, dry and peeling skin, dark vesicles under the eyes, darkened face, dark or mauve lips or finger nails, dark face, red web-like nevi on the face, nose, torso, inside of knees and ankles, painful and inflammatory gums with loosening of teeth, ringing in the ears, frequent mood swings, hair loss, etc. This is all caused by blood blocks YU XUE, which over time results in stagnation of liver qi energy GAN QI ZHI. It is then manifested by other pains (again from the waist up), this time "travelling" (unlike fixed pains induced by blood blocks). Qi energy stagnation and blood blocks lead over time to the transformation of each block into internal heat or fire NEI HUO. This combination of block YU, stagnation ZHI and fire HUO attacks the heart pathway XIN and may be manifested e.g. as depression, irritability, strong mood swings, palpitations, insomnia, restless sleep, hot feeling on the chest, high temperatures in the afternoon, etc. In the area of the stomach WEI, continuous hiccups, nausea or coughing while drinking liquids, etc. may appear (due to blood block YU XUE which presses on the stomach qi WEI QI ZHI and results in an increase of "raging stomach qi in the opposite direction" WEI QI NI).
Packaging: 100 tablets / 30 g (100% natural, natural cellulose max. 1% is the only binding agent; made from concentrated herbs at a ratio of 5:1, i.e. 5 g of dried herbs are used per gram of herbal tablets)
Dosage: 3 times daily 4 tablets, children over 3 years of age 3 times daily 2 tablets
More information about dosage and using herbal tablets.
Ingredients (1 g is made from 5 g herbs):
Tao ren (Peach Kernel)
Dang gui (Chinese Angelica Root)
Hong hua (Safflower)
Niu xi (Achyranthes Root)
Sheng  di huang  (Chinese Foxglove Root)
Chi shao (Red Peony Root)
Zhi ke (Bitter Orange)
Chuan xiong (Sichuan Lovage Rhizome)
Jie geng (Balloon Flower Root)
Chai hu (Bupleurum Root)
Zhi gan cao (Licorice Root)
Microcrystalline cellulose (MCC) 1%
Each batch of herbs in our products is tested in the accredited laboratory for medicines Phytax in Schlieren, Switzerland, to identify herbs, but also heavy metals (mercury, cadmium, lead, arsenic, and copper), bacteria (E. coli, Salmonella, total number of bacteria), mould, yeasts and aflatoxins. Our company TCM Herbs is the only supplier in the Czech Republic to test each batch of herbs for all herbal tables, among others for 511 types of pesticides (4 groups) because pesticides today become a worldwide problem, especially in products from the so-called Third World. Customers, in the belief that they use herbal preparations, are often, by contrast, "contaminated" with other undesirable "chemicals".
Each laboratory is different
A laboratory for dietary supplements is obliged to verify only the presence of heavy metals, mould and bacteria – but does not determine the content of pesticides. A certified laboratory for medicines, on the other hand, also identifies individual herbs and in particular tests the entire range of pesticides (at least 500 types and more). There are only a few laboratories like that in the EU and the price is adequately high. It is therefore very important today to know which laboratory tests the dietary supplement and what the tests focus on, if each batch and each herb or just a sample are tested, how many pesticides, how many additives and how many additional binding agents the product contains, etc. – otherwise consumers could be easily deceived and disappointed… (for details read Safety and quality of TCM Herbs products)
The above implies that herbal tablets and drinks of TCM Herbs are, in terms of quantity (concentration of herbs in the mixture is 5 times higher, i.e. that 1 g of a herbal tablet equals 5 g of raw herbs) and quality (absolutely unprecedented testing of each batch), among the best products we can imagine and enjoy in the area of today's Chinese medicine and natural medicine at all!