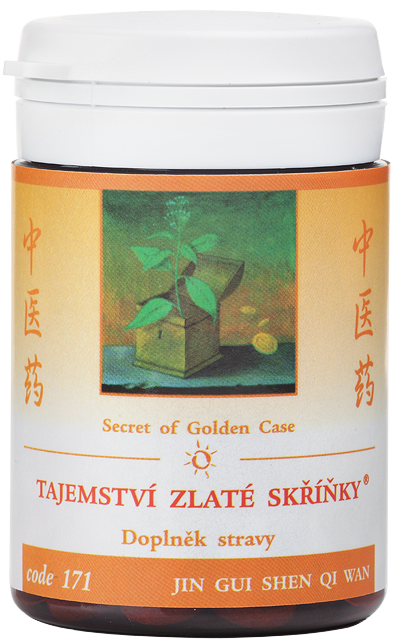 Category:
Herbal capsules
Affects based on the TCM:
Tonifies and warms insufficient yang of kidneys SHEN YANG XU
Nourishes insufficient yang of kidneys SHEN YIN XU
Nourishes insufficient qi of kidneys SHEN QI XU
Tonifies insufficient qi of kidneys SHEN JING XU
Usage:
Under-active thyroid gland (hypothyroidism)
Inflammation of the urinary bladder (cystitis)
Long-term inflammation of the urinary tract (chron. urethritis)
Kidney stones (nephrolithiasis)
Frequent urination at night (Nocturia)
Weakness of the urinary sphincter (Paralysis musculus detrusorí)
Sterility in men and women
Painful menstruation (Dysmenorrhoea)
Description according to traditional Chinese medicine: People are born with various body constitutions, some are stronger, some weaker. From their parents they get more life energy QI and essence JING (those luckier of us) or, conversely, less life energy and essence. Some people exhaust this essence JING through excessive mental work, excessive physical exercise and sports, excess of physical work, excessive sexual activity and/or poor nutrition. We would say today that they do not follow the rules of healthy lifestyle. Simply put, the human age and its life force are naturally limited. This herbal mixture feeds the deficient kidney yin SHEN YIN XU as well as the kidney yang SHEN YANG XU, the source of vital strength and energy of the kidneys SHEN QI, as well as the kidney essence SHEN JING. According to TCM, the foundation of good health lies in the kidneys SHEN. The kidney essence JING produces sufficient qi energy QI, which is then topped up and renewed by healthy lifestyle and healthy food. It is therefore no wonder that this life force and energy weaken and must be renewed and topped up. Insufficient kidney qi energy SHEN QI XU is manifested by symptoms such as pain in the lower back, cold limbs, cold feeling in your lower back and lower parts of the body, chills which improve with clothes (on the other hand, they do not improve in case of attack by the external cold wind FENG), frequent urination at night, frequent urination during the day with a large portion of light urine, enuresis, incontinence, difficulty urinating, tension in the underbelly, weakness in the knees and lower limbs, swelling, chronic diarrhoea, impotence, sterility. This herbal mixture renews the kidney yin SHEN YIN as well as the kidney yang SHEN YANG, the source of vital strength, and the kidney essence SHEN JING. All these three components are necessary for the proper maintenance of a healthy body. Problems (and difficulties and diseases) occur when these three components are weakened or not in balance. The effects of this mixture are based on gradual support of the organism, not on a temporary, unreasonable "discharge" of energy. It is one of the most famous products used against signs of premature ageing in China.
Packaging: 100 tablets / 30 g (100% natural, natural cellulose max. 1% is the only binding agent; made from concentrated herbs at a ratio of 5:1, i.e. 5 g of dried herbs are used per gram of herbal tablets)
Dosage: 3 times daily 4 tablets, children over 3 years of age 3 times daily 2 tablets
More information about dosage and using herbal tablets.
Ingredients (1 g is made from 5 g herbs):
Shu di huang (Prepared Chinese Foxglove Root)

Rou gui (Cinnamon Bark)

Fu ling (Hoelen)

Mu dan pi (Tree Peony Root Bark)

Shan yao (Chinese Yam)

Shan zhu yu (Asiatic Cornelian Cherry Fruit)

Ze xie (Water Plantain Rhizome)

Microcrystalline cellulose (MCC) 1%
Each batch of herbs in our products is tested in the accredited laboratory for medicines Phytax in Schlieren, Switzerland, to identify herbs, but also heavy metals (mercury, cadmium, lead, arsenic, and copper), bacteria (E. coli, Salmonella, total number of bacteria), mould, yeasts and aflatoxins. Our company TCM Herbs is the only supplier in the Czech Republic to test each batch of herbs for all herbal tables, among others for 511 types of pesticides (4 groups) because pesticides today become a worldwide problem, especially in products from the so-called Third World. Customers, in the belief that they use herbal preparations, are often, by contrast, "contaminated" with other undesirable "chemicals".
Each laboratory is different
A laboratory for dietary supplements is obliged to verify only the presence of heavy metals, mould and bacteria – but does not determine the content of pesticides. A certified laboratory for medicines, on the other hand, also identifies individual herbs and in particular tests the entire range of pesticides (at least 500 types and more). There are only a few laboratories like that in the EU and the price is adequately high. It is therefore very important today to know which laboratory tests the dietary supplement and what the tests focus on, if each batch and each herb or just a sample are tested, how many pesticides, how many additives and how many additional binding agents the product contains, etc. – otherwise consumers could be easily deceived and disappointed… (for details read Safety and quality of TCM Herbs products)
The above implies that herbal tablets and drinks of TCM Herbs are, in terms of quantity (concentration of herbs in the mixture is 5 times higher, i.e. that 1 g of a herbal tablet equals 5 g of raw herbs) and quality (absolutely unprecedented testing of each batch), among the best products we can imagine and enjoy in the area of today's Chinese medicine and natural medicine at all!