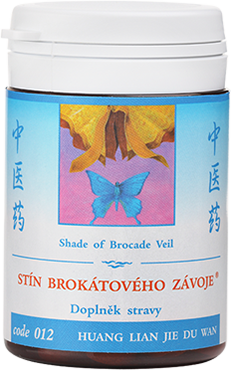 Category:
Herbal capsules
Affects based on the TCM:
Dispels fire HUO of three warmers
Clears heat RE and dispels hot toxin RE DU from three warmers
Dries dampness SHI from three warmers
Eliminates latent (hidden) heat REL
Usage:
Acute inflammations and infections – stomach inflammation (gastritis), inflammation of the gallbladder (cholecystitis), liver inflammation (hepatitis) and urinary tract inflammation (uretritis)
Menopausal hot flushes and sweating
Psychic restlessness and irritability
Skin rashes, eczemas and skin infections
Description according to traditional Chinese medicine: Which of us have never experienced the feeling of excessive heat? According to TCM, the difference between heat RE and fire HUO lies only in their intensity; to be precise, it says that "heat is a diminished fire and fire is the ultimate heat". In Chinese medicine the term "cleanse heat" means to eliminate harmful heat RE or fire HUO – similarly to opening a window in an overheated room and ventilating so that fresh air could cleanse this hotness. How does this overheating occur? There are usually 2 reasons: An overheated heater is the first cause – we have put too much to burn in it, just like when we eat too much, or too little of an excessively combustible substance (e.g. petrol), as if we ate hot, spicy, fat, fried, grilled food or drank black coffee or alcohol… The other cause is a certain closure, stagnation, block, decay, smouldering, swelling, i.e. a closed room without ventilation, as if we stifled certain emotions inside ourselves without venting them… And these "civilization staples" result in an internal overheating of our organism, with these harmful heat RE and fire HUO damaging and burning our organs, pathways, blood and skin and thus creating the perfect conditions for various inflammations and infections, which are so abundant today. A certain cool-down will be ensured by the name Shade of Brocade Veil as such and twice as much by its consumption!
Packaging: 100 tablets / 30 g (100% natural, natural cellulose max. 1% is the only binding agent; made from concentrated herbs at a ratio of 5:1, i.e. 5 g of dried herbs are used per gram of herbal tablets)
Dosage: 3 times daily 4 tablets, children over 3 years of age 3 times daily 2 tablets
More information about dosage and using herbal tablets.
Ingredients (1 g is made from 5 g herbs):
Cang er zi (Cocklebur Fruit)

Xin yi hua (Magnolia Flower)

Jing jie (Japanese Catnip)

Jin yin hua (Honeysuckle Flower)

Ye ju hua (Wild Chrysanthemum Flower )

Bai zhi (Angelica Root)

Fang feng (Ledebouriella Root)

Lian qiao (Forsythia Fruit)

Huang qi (Astragalus Root)

Shi chang pu (Sweetflag Rhizome)

Jie geng (Balloon Flower Root)

Microcrystalline cellulose (MCC) 1%
Each batch of herbs in our products is tested in the accredited laboratory for medicines Phytax in Schlieren, Switzerland, to identify herbs, but also heavy metals (mercury, cadmium, lead, arsenic, and copper), bacteria (E. coli, Salmonella, total number of bacteria), mould, yeasts and aflatoxins. Our company TCM Herbs is the only supplier in the Czech Republic to test each batch of herbs for all herbal tables, among others for 511 types of pesticides (4 groups) because pesticides today become a worldwide problem, especially in products from the so-called Third World. Customers, in the belief that they use herbal preparations, are often, by contrast, "contaminated" with other undesirable "chemicals".
Each laboratory is different
A laboratory for dietary supplements is obliged to verify only the presence of heavy metals, mould and bacteria – but does not determine the content of pesticides. A certified laboratory for medicines, on the other hand, also identifies individual herbs and in particular tests the entire range of pesticides (at least 500 types and more). There are only a few laboratories like that in the EU and the price is adequately high. It is therefore very important today to know which laboratory tests the dietary supplement and what the tests focus on, if each batch and each herb or just a sample are tested, how many pesticides, how many additives and how many additional binding agents the product contains, etc. – otherwise consumers could be easily deceived and disappointed… (for details read Safety and quality of TCM Herbs products)
The above implies that herbal tablets and drinks of TCM Herbs are, in terms of quantity (concentration of herbs in the mixture is 5 times higher, i.e. that 1 g of a herbal tablet equals 5 g of raw herbs) and quality (absolutely unprecedented testing of each batch), among the best products we can imagine and enjoy in the area of today's Chinese medicine and natural medicine at all!