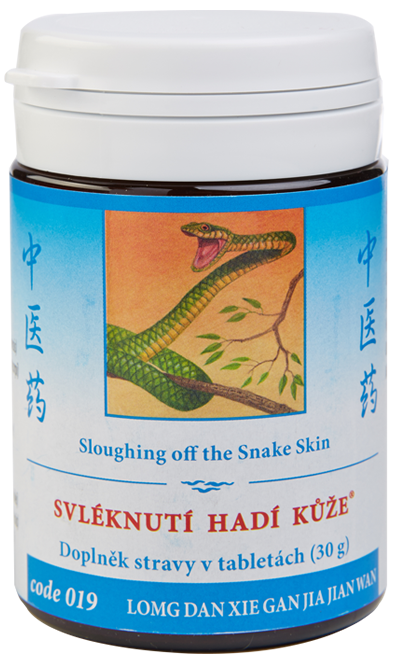 Category:
Herbal capsules
Affects based on the TCM:
Dispels dampness and heat SHI/RE from the liver and gall bladder and the bottom warmer
Dispels wind FENG and alleviates itching
Usage:
Oozing and itchy eczemas
Acute inflammation of the skin (e.g. impetigo)
Psoriasis
Acne
Yellow vaginal discharge and itching
Gynaecological inflammation and mycoses
Genital herpes
Description according to traditional Chinese medicine: This herbal mixture is a variation of the popular and widely used mixture LONG DAN XIE GAN WAN (Pill of Gentian (code 014), but the difference is that this new herbal mixture drains moisture and heat SHI/RE from our organism much more, in particular from the liver and gall bladder pathways and from the lower burner. It also eliminates the harmful wind FENG, which causes itching, mostly in case of skin and genital problems. Stagnating moisture and heat in the liver and in the gall bladder GAN/DAN SHI/RE block the pathways and the lower burner similarly to sludge being compressed in a hot pipe, which results in symptoms such as pain under the ribs, full, stretched stomach, nausea and vomiting, especially after fatty meals, inability to digest fats, thirst without any desire to drink, bitterness in the mouth, vertigo, ringing in the ears, feeling of a heavy body and hotness, insensitive limbs, swelling limbs, unformed, thin stools or constipation, yellowish whites, irritability, itchy eczema and rash with pustules or purulent vesicles, mould or painful spots on the soles of the feet, difficulty urinating, odorous dark yellow urine (typical in men), red and swollen scrotum, yellow vaginal discharge in women, vaginal itching, vaginal eczema or painful spots on external genitals, mid-cycle bleeding, etc. And it is necessary to remove this thick sludge from the body, cool down and clean the pipes, adjust the nozzles… Simply slough the snake skin…
Packaging: 100 tablets / 30 g (100% natural, natural cellulose max. 1% is the only binding agent; made from concentrated herbs at a ratio of 5:1, i.e. 5 g of dried herbs are used per gram of herbal tablets)
Dosage: 3 times daily 4 tablets, children over 3 years of age 3 times daily 2 tablets
More information about dosage and using herbal tablets.
Ingredients (1 g is made from 5 g herbs):
Sheng  di huang  (Chinese Foxglove Root)
Bai xian pi (Chinese Dittany Root Cortex)
Di fu zi (Belvedere Fruit)
Huang qin (Baical Skullcap Root)
Mu dan pi (Tree Peony Root Bark)
Ze xie (Water Plantain Rhizome)
Yin chen hao (Virgate Wormwood)
Che qian zi (Plantago Seeds)
Long dan cao (Chinese Gentian Root)
Zhi zi (Cape Jasmine Fruit)
Deng xin cao (Juncus Pith)
Zhi gan cao (Licorice Root)
Microcrystalline cellulose (MCC) 1%
Each batch of herbs in our products is tested in the accredited laboratory for medicines Phytax in Schlieren, Switzerland, to identify herbs, but also heavy metals (mercury, cadmium, lead, arsenic, and copper), bacteria (E. coli, Salmonella, total number of bacteria), mould, yeasts and aflatoxins. Our company TCM Herbs is the only supplier in the Czech Republic to test each batch of herbs for all herbal tables, among others for 511 types of pesticides (4 groups) because pesticides today become a worldwide problem, especially in products from the so-called Third World. Customers, in the belief that they use herbal preparations, are often, by contrast, "contaminated" with other undesirable "chemicals".
Each laboratory is different
A laboratory for dietary supplements is obliged to verify only the presence of heavy metals, mould and bacteria – but does not determine the content of pesticides. A certified laboratory for medicines, on the other hand, also identifies individual herbs and in particular tests the entire range of pesticides (at least 500 types and more). There are only a few laboratories like that in the EU and the price is adequately high. It is therefore very important today to know which laboratory tests the dietary supplement and what the tests focus on, if each batch and each herb or just a sample are tested, how many pesticides, how many additives and how many additional binding agents the product contains, etc. – otherwise consumers could be easily deceived and disappointed… (for details read Safety and quality of TCM Herbs products)
The above implies that herbal tablets and drinks of TCM Herbs are, in terms of quantity (concentration of herbs in the mixture is 5 times higher, i.e. that 1 g of a herbal tablet equals 5 g of raw herbs) and quality (absolutely unprecedented testing of each batch), among the best products we can imagine and enjoy in the area of today's Chinese medicine and natural medicine at all!