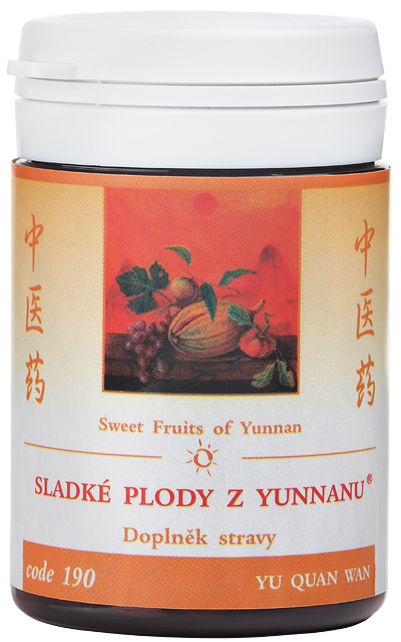 Category:
Herbal capsules
Affects based on the TCM:
Nourishes insufficient yin YIN XU
Cools heat from insufficiency of the lungs, stomach, and kidneys FEI/WEI/SHEN RE XU
Quenches thirst and supports creation of body fluids JIN YE
Usage:
Type 1 and type 2 Diabetes mellitus (diabetes)
Description according to traditional Chinese medicine: This is a modification of the original traditional Chinese herbal mixture YU QUAN WAN, adjusted to meet today's needs. Diabetes is becoming a civilization diseases in our parts. In China it is called the "thirsty and wasting diseases" as it is manifested by excessive thirst and urination. Diabetic patients are thin, with a dry mouth and a red, sometimes cracked tongue. According to Chinese medicine this is always caused by deficient yin YIN XU ("basic bodily fluids"), which results in an increase in yang YANG SHI and therefore an increase in internal heat RE. This is manifested by symptoms such as hot flashes, dry mouth, skin and hair, dry cough, etc. Diabetes affects the yin of the lungs, the stomach and the kidneys FEI/WEI/SHEN YIN XU most often and these symptoms are ranked according to the site of occurrence. An impairment of the lung yin FEI YIN XU results in excessive thirst with a dry mouth and throat. An impairment of the stomach yin WEI YIN XU leads to excessive hunger, emaciation and fatigue. Deficient kidney yin SHEN YIN XU features excessive urination with night sweats, pains in the lower back and red cheeks. Sometimes only one area is affected, at other times there are various combinations or all areas can be affected at the same time. In such cases the treatment consists in feeding the deficient yin YIN XU and cooling down the heat RE in all 3 areas and in strengthening and topping up the energy of the organism. That is what this herbal mixture is for. It also adjusts the blood sugar level, stabilizes diseases and prevents secondary complications during diabetes such as insufficient blood supply to the limbs, loss of sight and damage to peripheral nerves.
Packaging: 100 tablets / 30 g (100% natural, natural cellulose max. 1% is the only binding agent; made from concentrated herbs at a ratio of 5:1, i.e. 5 g of dried herbs are used per gram of herbal tablets)
Dosage: 3 times daily 4 tablets, children over 3 years of age 3 times daily 2 tablets
More information about dosage and using herbal tablets.
Ingredients (1 g is made from 5 g herbs):
Mai men dong (Ophiopogon Tuber)
Shu di huang (Prepared Chinese Foxglove Root)
Tian hua fen (Snakegourd Root)
Dang shen (Codonopsis Root)
Fu ling (Hoelen)
Wu mei (Mume Fruit)
Wu wei zi (Schisandra Fruit)
Zhi gan cao (Licorice Root)
Microcrystalline cellulose (MCC) 1%
Each batch of herbs in our products is tested in the accredited laboratory for medicines Phytax in Schlieren, Switzerland, to identify herbs, but also heavy metals (mercury, cadmium, lead, arsenic, and copper), bacteria (E. coli, Salmonella, total number of bacteria), mould, yeasts and aflatoxins. Our company TCM Herbs is the only supplier in the Czech Republic to test each batch of herbs for all herbal tables, among others for 511 types of pesticides (4 groups) because pesticides today become a worldwide problem, especially in products from the so-called Third World. Customers, in the belief that they use herbal preparations, are often, by contrast, "contaminated" with other undesirable "chemicals".
Each laboratory is different
A laboratory for dietary supplements is obliged to verify only the presence of heavy metals, mould and bacteria – but does not determine the content of pesticides. A certified laboratory for medicines, on the other hand, also identifies individual herbs and in particular tests the entire range of pesticides (at least 500 types and more). There are only a few laboratories like that in the EU and the price is adequately high. It is therefore very important today to know which laboratory tests the dietary supplement and what the tests focus on, if each batch and each herb or just a sample are tested, how many pesticides, how many additives and how many additional binding agents the product contains, etc. – otherwise consumers could be easily deceived and disappointed… (for details read Safety and quality of TCM Herbs products)
The above implies that herbal tablets and drinks of TCM Herbs are, in terms of quantity (concentration of herbs in the mixture is 5 times higher, i.e. that 1 g of a herbal tablet equals 5 g of raw herbs) and quality (absolutely unprecedented testing of each batch), among the best products we can imagine and enjoy in the area of today's Chinese medicine and natural medicine at all!