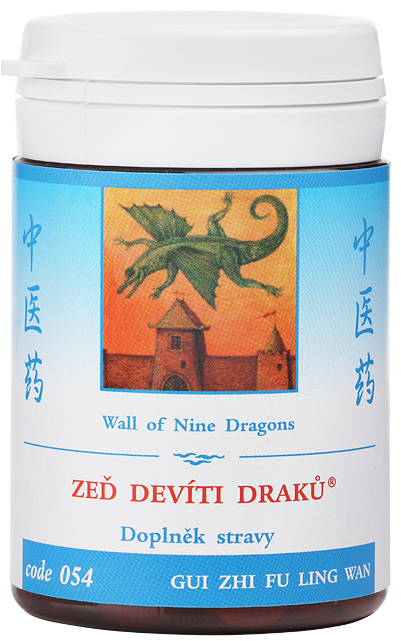 Category:
Herbal capsules
Affects based on the TCM:
Warms meridians LUO
Brisks up blockade of blood YU XUE and relieves pain
Brisks up qi QI ZHI and disperses phlegm TAN removing it by urination
Usage:
Uterine fibroids (Myoma uteri)
Bleeding from the womb (metrorrhagia)
Ovarian cysts (Cysta ovariale)
Enlarged prostate (benign prostatic hypertrophy)
Goiter (thyroid hypertrophy)
Inflammation of the veins in the legs (thrombophlebitis)
High blood pressure (Hypertense arterialis)
Cardiovascular diseases (angina pectoris, Buerger's disease …)
Neuroses
Insomnia
Description according to traditional Chinese medicine: This is a modification of the original traditional Chinese herbal mixture GUI ZHI FU LING WAN, adjusted to meet today's needs. This mixture was originally created to treat blood blocks YU XUE during pregnancy. Blood blocks YU XUE in the vagina, which has miscellaneous manifestations, together with phlegm TAN cause the accumulation of a compact mass which creates various fibroids, cysts, endometriosis, chronic pelvic inflammations, intermittent or painful menstruation with persistent bleeding. However, they do not only result in gynaecological problems caused by blood blocks in the liver GAN YU XUE, but also a number of other difficulties and diseases, whose common denominator is blood blocking on the liver pathway GAN YU XUE, e.g. various non-malign cysts, polyps and tumours (breasts, thyroid, prostate, intestine, adhesions, acne…), as well as eye problems, because the liver blood GAN XUE feeds the eyes (retinopathy in case of diabetes and in old age, inflammations of the iris and conjunctivitis…), as well as diverse mental problems caused by qi energy stagnation in the liver GAN QI ZHI (neuroses, epilepsy, schizophrenia…).
Packaging: 100 tablets / 30 g (100% natural, natural cellulose max. 1% is the only binding agent; made from concentrated herbs at a ratio of 5:1, i.e. 5 g of dried herbs are used per gram of herbal tablets)
Dosage: 3 times daily 4 tablets, children over 3 years of age 3 times daily 2 tablets
Ingredients (1 g is made from 5 g herbs):
Gui zhi (Cinnamon Twig)
Bai shao (White Peony Root)
Dang gui (Chinese Angelica Root)
Gao ben (Chinese Lovage Root)
Chuan xiong (Sichuan Lovage Rhizome)
Dan shen (Red Sage Root)
Xiang fu (Purple Nutsedge Root)
Pu huang (Bulrush)
Zhi ke (Bitter Orange)
Hong hua (Safflower)
Mu dan pi (Tree Peony Root Bark)
Chi shao (Red Peony Root)
Tao ren (Peach Kernel)
Zhi gan cao (Licorice Root)
Microcrystalline cellulose (MCC) 1%
Each batch of herbs in our products is tested in the accredited laboratory for medicines Phytax in Schlieren, Switzerland, to identify herbs, but also heavy metals (mercury, cadmium, lead, arsenic, and copper), bacteria (E. coli, Salmonella, total number of bacteria), mould, yeasts and aflatoxins. Our company TCM Herbs is the only supplier in the Czech Republic to test each batch of herbs for all herbal tables, among others for 511 types of pesticides (4 groups) because pesticides today become a worldwide problem, especially in products from the so-called Third World. Customers, in the belief that they use herbal preparations, are often, by contrast, "contaminated" with other undesirable "chemicals".
Each laboratory is different
A laboratory for dietary supplements is obliged to verify only the presence of heavy metals, mould and bacteria – but does not determine the content of pesticides. A certified laboratory for medicines, on the other hand, also identifies individual herbs and in particular tests the entire range of pesticides (at least 500 types and more). There are only a few laboratories like that in the EU and the price is adequately high. It is therefore very important today to know which laboratory tests the dietary supplement and what the tests focus on, if each batch and each herb or just a sample are tested, how many pesticides, how many additives and how many additional binding agents the product contains, etc. – otherwise consumers could be easily deceived and disappointed… (for details read Safety and quality of TCM Herbs products)
The above implies that herbal tablets and drinks of TCM Herbs are, in terms of quantity (concentration of herbs in the mixture is 5 times higher, i.e. that 1 g of a herbal tablet equals 5 g of raw herbs) and quality (absolutely unprecedented testing of each batch), among the best products we can imagine and enjoy in the area of today's Chinese medicine and natural medicine at all!