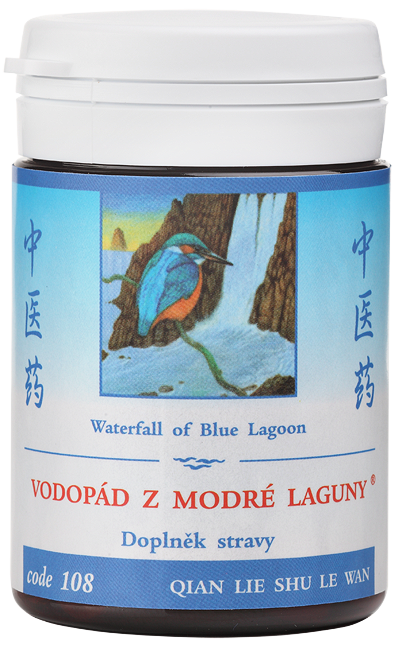 Category:
Herbal capsules
Affects based on the TCM:
Supplements qi of spleen PI QI XU
Dispels dampness and heat SH/RE from the bottom warmer XIA JIAO
Brisks up blockade of blood YU XUE in the bottom warmer XIA JIAO
Eliminates swelling
Diuretic
Usage:
Enlarged prostate, prostate adenoma (Hyperplasie Prostatae)
Acute and chronic inflammation of the prostate (Ac. et chron. prostatitis)
Description according to traditional Chinese medicine: This is a modification of the original traditional Chinese herbal mixture QIAN LIE SHU LE WAN, adjusted to meet today's needs. Many men who turn over 50 years of age suffer from prostate difficulties such as frequent urination, delayed onset of urination or pain and burning in the prostate area. According to Chinese medicine, these problems are caused by the accumulation of moisture SHI and heat RE in the lower burner XIA JIAO, especially in the area of the urinary bladder PANG GUANG, which results in blocking the flow of qi energy QI ZHI. This all (based on the "theory of clogged gutter") results in the prostate problems mentioned above. Just like women have vaginal problems, men suffer from prostate tumours and the causes of their occurrence are similar according to Chinese medicine. Accumulation of moisture SHI and heat RE in men is most often supported by alcohol, black coffee, excessive or one-sided consumption of fried, fatty and spicy meals. This mixture cleans the moisture SHI and heat RE from the area of the urinary bladder PANG GUANG and stirs up blood stagnation YU XUE in that area, reducing tumours and prostate problems.
Packaging: 100 tablets / 30 g (100% natural, natural cellulose max. 1% is the only binding agent; made from concentrated herbs at a ratio of 5:1, i.e. 5 g of dried herbs are used per gram of herbal tablets)
Dosage: 3 times daily 4 tablets, children over 3 years of age 3 times daily 2 tablets
Ingredients (1 g is made from 5 g herbs):
Huang bai (Phellodendron Bark)
Che qian zi (Plantago Seeds)
Tong cao (Tetrapanax)
Wang bu liu xing (Vaccaria Seeds)
Ze lan (Bugleweed)
Bai hua she she cao (Herba Hedyotidis Diffusae)
Hou po (Magnolia Bark)
Huang qi (Astragalus Root)
Hai jin sha (Lygodium Spore)
Kun bu (Japanese Sea Tangle)
Lu lu tong (Liquidamber Fruit)
Shi wei (Felt Fern Leaf)
Tu si zi (Chinese Dodder Seeds)
Microcrystalline cellulose (MCC) 1%
Each batch of herbs in our products is tested in the accredited laboratory for medicines Phytax in Schlieren, Switzerland, to identify herbs, but also heavy metals (mercury, cadmium, lead, arsenic, and copper), bacteria (E. coli, Salmonella, total number of bacteria), mould, yeasts and aflatoxins. Our company TCM Herbs is the only supplier in the Czech Republic to test each batch of herbs for all herbal tables, among others for 511 types of pesticides (4 groups) because pesticides today become a worldwide problem, especially in products from the so-called Third World. Customers, in the belief that they use herbal preparations, are often, by contrast, "contaminated" with other undesirable "chemicals".
Each laboratory is different
A laboratory for dietary supplements is obliged to verify only the presence of heavy metals, mould and bacteria – but does not determine the content of pesticides. A certified laboratory for medicines, on the other hand, also identifies individual herbs and in particular tests the entire range of pesticides (at least 500 types and more). There are only a few laboratories like that in the EU and the price is adequately high. It is therefore very important today to know which laboratory tests the dietary supplement and what the tests focus on, if each batch and each herb or just a sample are tested, how many pesticides, how many additives and how many additional binding agents the product contains, etc. – otherwise consumers could be easily deceived and disappointed… (for details read Safety and quality of TCM Herbs products)
The above implies that herbal tablets and drinks of TCM Herbs are, in terms of quantity (concentration of herbs in the mixture is 5 times higher, i.e. that 1 g of a herbal tablet equals 5 g of raw herbs) and quality (absolutely unprecedented testing of each batch), among the best products we can imagine and enjoy in the area of today's Chinese medicine and natural medicine at all!