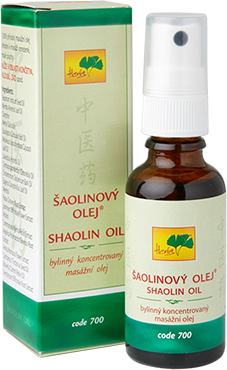 Affects based on the TCM:
Brisks up stagnation of energy QI ZHI and blood XUE YU
Relieves pain
Reduces swelling
Recovers and relaxes tendons and muscles
Usage:
All kinds of injuries to muscles, tendons, ligaments, and bones (except for open wounds), e.g. bruises, sprains, dislocations, etc.
Pain in the shoulders or lower back, both acute and chronic, sciatica with radiating pain into the limbs, slipped disc.
Pain in the cervical spine with contraction of neck and back muscles with headaches
Rheumatic joint and muscle pain, both acute and chronic, with swellings, responding to weather, gout
Muscle and joint pain after overload (sports, excessive physical stress, etc.), when oil is used for full body massage
Allergic rhinitis, acute or yearlong – lightly smear under the nose
Cough in infants – smear on the chest
Massage oil – during classical massages can be used instead of other emulsions, moreover, it has the advantage of massaging herbal ingredients into deeper parts of the body
Description according to traditional Chinese medicine: According to traditional Chinese medicine, each pain is an expression of the "tissue's hunger for energy". It means that the site of the pain is not supplied with blood and qi energy sufficiently. This is caused by blocked energy and blood flow on the site. To remove the pain it is always necessary to unblock and stir up the blood and energy stagnation on the site of the pain. This is assisted internally by the herbal mixture Persistence of Bamboo Shoot (code 205) and externally by herbal oil Shaolin Oil (code 700). Both these products unblock the pathways, drain the accumulated harmful substances on the site of the pain (reducing swelling or stiffness), bring new blood and energy (feeding and regenerating the affected area), improve blood distribution and, through all these means, calm down the pain. However, their effect is not that of analgesic medicines, they act on the very essence of the cause of the pain.

Dosage: 3-4 times daily, rub gently into the affected areas.
Notice: Do not use on open wounds and inner mucous membranes. Be careful during pregnancy – must not be used on the underbelly.
Package: 25 ml in a spray
Ingredients:
Sesamum Indicum Seed Oil

Mentha Arvensis Leaf Oil

Camphor

Methyl Salicylate

Eucalyptus Leucadendron Cajuputi

Leaf Oil

Lavandula Hybrida Oil

Cymbopogon Nardus (Citronella) Oil

Cinnamomum Zeylanicum Bark Oil

Eugenia Caryophyllus Leaf Oil

Menthol

Panax Ginseng Root Extract

Jasminum Officinale Flower Extract

Alcohol

Commiphora Myrrha Resin Extract

Angelica Polymorpha Sinensis Root

Extraxt

Arnica Montana Flower Extract

Carthamus Tinctorius Seed Oil

Bosweila Carterii Resin Oil

Symphytum Officinale Root Extract
Each batch of herbs in our products is tested in the accredited laboratory for medicines Phytax in Schlieren, Switzerland, to identify herbs, but also heavy metals (mercury, cadmium, lead, arsenic, and copper), bacteria (E. coli, Salmonella, total number of bacteria), mould, yeasts and aflatoxins. Our company TCM Herbs is the only supplier in the Czech Republic to test each batch of herbs for all herbal tables, among others for 511 types of pesticides (4 groups) because pesticides today become a worldwide problem, especially in products from the so-called Third World. Customers, in the belief that they use herbal preparations, are often, by contrast, "contaminated" with other undesirable "chemicals".
Each laboratory is different
A laboratory for dietary supplements is obliged to verify only the presence of heavy metals, mould and bacteria – but does not determine the content of pesticides. A certified laboratory for medicines, on the other hand, also identifies individual herbs and in particular tests the entire range of pesticides (at least 500 types and more). There are only a few laboratories like that in the EU and the price is adequately high. It is therefore very important today to know which laboratory tests the dietary supplement and what the tests focus on, if each batch and each herb or just a sample are tested, how many pesticides, how many additives and how many additional binding agents the product contains, etc. – otherwise consumers could be easily deceived and disappointed… (for details read Safety and quality of TCM Herbs products)
The above implies that herbal tablets and drinks of TCM Herbs are, in terms of quantity (concentration of herbs in the mixture is 5 times higher, i.e. that 1 g of a herbal tablet equals 5 g of raw herbs) and quality (absolutely unprecedented testing of each batch), among the best products we can imagine and enjoy in the area of today's Chinese medicine and natural medicine at all!