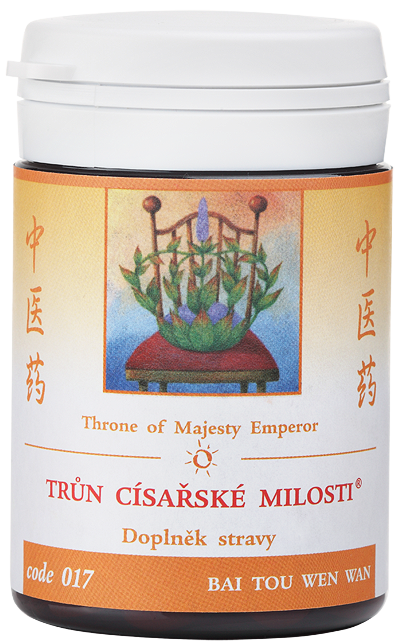 Category:
Herbal capsules
Affects based on the TCM:
Excludes hot toxin RE DU from the intestines
Cools blood RE XUE
Stops diarrhoea
Usage:
Chronic and acute diarrhoea (salmonellosis, shigellosis, adenoviruses …)
Crohn's disease or ulcerative colitis
Hemorrhoids
Parasitic diseases with diarrhoea (amoebas)
Description according to traditional Chinese medicine: This is a modification of the original traditional Chinese herbal mixture BAI TOU WEN WAN, adjusted to meet today's needs. Civilization diseases, hard to treat with Western medicine, are growing in appearance in the Western societies because of stress and poor lifestyle. They also include Crohn's disease or ulcerative colitis, which are chronic inflammations of the large and small intestine, manifested by repeated diarrhoea with mucous or bloody stools, sometimes purulent, abdominal pain, annoying feeling of urge to stool or burning in the rectum. According to Chinese medicine, these difficulties are caused by hot toxin RE DU accumulated in the intestine which slowly destroys this area. The treatment then consists of eliminating "hot toxin RE DU" from the organism, cooling down blood and calming down diarrhoeal pain. It is often combined with the herbal mixture Drying up the Rice Terraces (code 021) and with breakfast it is always recommended to drink the Beverage of Chinese Sages (code 900).
Packaging: 100 tablets / 30 g (100% natural, natural cellulose max. 1% is the only binding agent; made from concentrated herbs at a ratio of 5:1, i.e. 5 g of dried herbs are used per gram of herbal tablets)
Dosage: 3 times daily 4 tablets, children over 3 years of age 3 times daily 2 tablets
More information about dosage and using herbal tablets.
Ingredients (1 g is made from 5 g herbs):
Shu di huang (Prepared Chinese Foxglove Root)
Dan zhu ye (Bamboo Leaves and Stem)
Fu ling (Hoelen)
Hua shi (Talcum)
Mang xiao (Glauber's Salt)
Tong cao (Tetrapanax)
Zhi zi (Cape Jasmine Fruit)
Zhi gan cao (Licorice Root)
Microcrystalline cellulose (MCC) 1%
Each batch of herbs in our products is tested in the accredited laboratory for medicines Phytax in Schlieren, Switzerland, to identify herbs, but also heavy metals (mercury, cadmium, lead, arsenic, and copper), bacteria (E. coli, Salmonella, total number of bacteria), mould, yeasts and aflatoxins. Our company TCM Herbs is the only supplier in the Czech Republic to test each batch of herbs for all herbal tables, among others for 511 types of pesticides (4 groups) because pesticides today become a worldwide problem, especially in products from the so-called Third World. Customers, in the belief that they use herbal preparations, are often, by contrast, "contaminated" with other undesirable "chemicals".
Each laboratory is different
A laboratory for dietary supplements is obliged to verify only the presence of heavy metals, mould and bacteria – but does not determine the content of pesticides. A certified laboratory for medicines, on the other hand, also identifies individual herbs and in particular tests the entire range of pesticides (at least 500 types and more). There are only a few laboratories like that in the EU and the price is adequately high. It is therefore very important today to know which laboratory tests the dietary supplement and what the tests focus on, if each batch and each herb or just a sample are tested, how many pesticides, how many additives and how many additional binding agents the product contains, etc. – otherwise consumers could be easily deceived and disappointed… (for details read Safety and quality of TCM Herbs products)
The above implies that herbal tablets and drinks of TCM Herbs are, in terms of quantity (concentration of herbs in the mixture is 5 times higher, i.e. that 1 g of a herbal tablet equals 5 g of raw herbs) and quality (absolutely unprecedented testing of each batch), among the best products we can imagine and enjoy in the area of today's Chinese medicine and natural medicine at all!