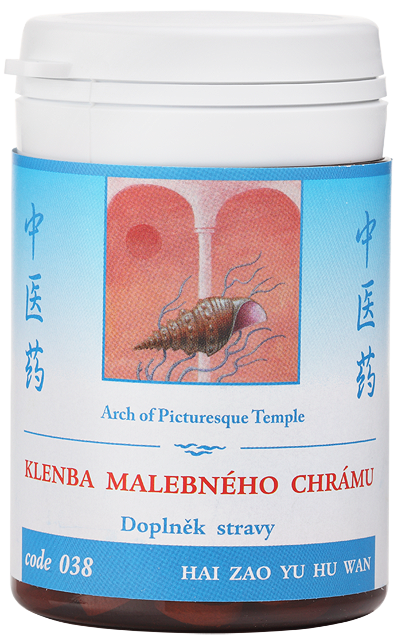 Category:
Herbal capsules
Affects based on the TCM:
Disperses phlegm TAN
Softens tough
Reduces and disperses SHI YING (goiter)
Regulates QI ZHI and disperses blood YU XUE
Usage:
Enlarged thyroid gland (goiter)
Cysts or benign thyroid tumours (fibromas)
Increased thyroid function – hyperthyroidism (hyperthyreosis)
Swollen mammary glands (during lactation or in children)
Description according to traditional Chinese medicine: This is a modification of the original traditional Chinese herbal mixture HAI ZAO YU HU WAN, adjusted to meet today's needs. It seems that the typical diseases today are diseases of the thyroid. It was not different in old China. Although much time has elapsed since then, the principle of treatment of an enlarged thyroid according to Chinese medicine remains the same – dissolve the accumulated phlegm TAN (accumulated in the thyroid because of excessive consumption of fatty, greasy, sweet and dairy meals), soften hard spots (in the form of nodules and tumours – fibrous nodular goitre) and stir up the stagnating blood and qi energy in the area of the thyroid to prevent further accumulation, so that the famous "clogged gutter" could once again fulfil its function properly.
To avoid getting out of the frying pan into the fire, it is necessary to comply with a certain lifestyle – e.g. omit fatty, greasy meals, sweets and dairy products and prefer greens and root vegetables, in particular fresh horseradish, spicy radishes and cereals such as Job's tears (White Pearl from East (code 910) or Beverage of Chinese Sages (code 900)). This herbal mixture was also used in old China whenever we use anticoagulants today to dilute blood (Warfarin, Anopyrin) because its effects are also anticoagulant and antisclerotic as it dilutes phlegm TAN, cools down heat and stirs up blood.
Packaging: 100 tablets / 30 g (100% natural, natural cellulose max. 1% is the only binding agent; made from concentrated herbs at a ratio of 5:1, i.e. 5 g of dried herbs are used per gram of herbal tablets)
Dosage: 3 times daily 4 tablets, children over 3 years of age 3 times daily 2 tablets
More information about dosage and using herbal tablets.
Ingredients (1 g is made from 5 g herbs):
Dang gui (Chinese Angelica Root)
Du huo (Pubescent Angelica Root)
Hai zao (Sargassum)
Chen pi (Tangerine Peel)
Chuan xiong (Sichuan Lovage Rhizome)
Kun bu (Japanese Sea Tangle)
Lian qiao (Forsythia Fruit)
Zhe bei mu (Thunberg Fritillaria Bulb)
Zhi ban xia (Pinellia Rhizome)
Qing pi (Green Tangerine Peel)
Hai dai (Japanese Sea Tangle)
Zhi gan cao (Licorice Root)
Microcrystalline cellulose (MCC) 1%
Each batch of herbs in our products is tested in the accredited laboratory for medicines Phytax in Schlieren, Switzerland, to identify herbs, but also heavy metals (mercury, cadmium, lead, arsenic, and copper), bacteria (E. coli, Salmonella, total number of bacteria), mould, yeasts and aflatoxins. Our company TCM Herbs is the only supplier in the Czech Republic to test each batch of herbs for all herbal tables, among others for 511 types of pesticides (4 groups) because pesticides today become a worldwide problem, especially in products from the so-called Third World. Customers, in the belief that they use herbal preparations, are often, by contrast, "contaminated" with other undesirable "chemicals".
Each laboratory is different
A laboratory for dietary supplements is obliged to verify only the presence of heavy metals, mould and bacteria – but does not determine the content of pesticides. A certified laboratory for medicines, on the other hand, also identifies individual herbs and in particular tests the entire range of pesticides (at least 500 types and more). There are only a few laboratories like that in the EU and the price is adequately high. It is therefore very important today to know which laboratory tests the dietary supplement and what the tests focus on, if each batch and each herb or just a sample are tested, how many pesticides, how many additives and how many additional binding agents the product contains, etc. – otherwise consumers could be easily deceived and disappointed… (for details read Safety and quality of TCM Herbs products)
The above implies that herbal tablets and drinks of TCM Herbs are, in terms of quantity (concentration of herbs in the mixture is 5 times higher, i.e. that 1 g of a herbal tablet equals 5 g of raw herbs) and quality (absolutely unprecedented testing of each batch), among the best products we can imagine and enjoy in the area of today's Chinese medicine and natural medicine at all!