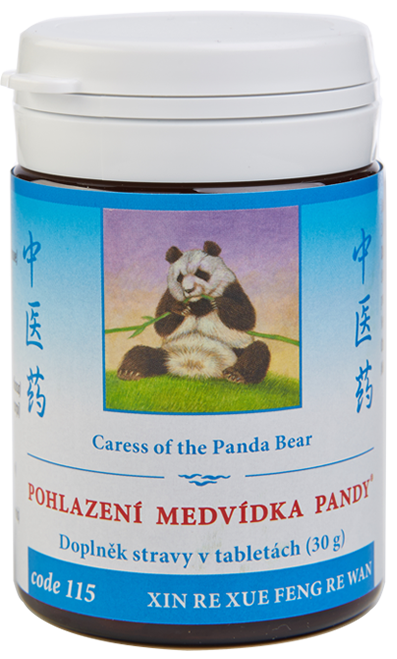 Category:
Herbal capsules
Affects based on the TCM:
Dispels external wind FENG XIE and soothes itching
Cools heat in blood RE XUE and nourishes YIN
Cools heat in heart XIN RE and calms spirit SHEN
Eliminates external heat RE and wind FENG RE from layers WEI, QI, and XUE
Usage:
Chronic dry and itchy eczemas
Psoriasis
Atopic children's itchy eczemas
Description according to traditional Chinese medicine: This is a wholly new but well-tested herbal mixture, concocted on the basis of experience of the last 30 years of treatment of current eczema using TCM. This is the most basic and we could say that the most universal herbal mixture for chronic dry eczema, mostly itchy, so prevalent in our times and our civilization. These skin problems usually have multiple causes – inborn deficiency or disposition + food + emotions + e.g. early or excessive vaccination, electric smog, etc. (for more details read the section Skin problems). This mixture can be suitably combined and complemented with other herbal mixtures such as in case of excessive itching the herbal mixture Seclusion of the Hermit Chang (code 114), in case of excessive heat and restlessness Taming of the Hot-blooded Horse (code 018), in case of moist, purulent eczema Breeze of Silk Fan (code 113), in case of eczema with sticky, yellow discharge Sloughing of the Snake Skin (019) or Five Calm Volcanoes (011), etc. This all depends on your skills and creativity.
Let the Caress of the Panda Bear really caress you and fine tune everything to send your eczema to the eternal hunting grounds!
Packaging: 100 tablets / 30 g (100% natural, natural cellulose max. 1% is the only binding agent; made from concentrated herbs at a ratio of 5:1, i.e. 5 g of dried herbs are used per gram of herbal tablets)
Dosage: 3 times daily 4 tablets, children over 3 years of age 3 times daily 2 tablets
More information about dosage and using herbal tablets.
Ingredients (1 g is made from 5 g herbs):
Shu di huang (Prepared Chinese Foxglove Root)
Bai xian pi (Chinese Dittany Root Cortex)
Chi shao (Red Peony Root)
Mu dan pi (Tree Peony Root Bark)
Bai ji li (Caltrop Fruit)
Fang feng (Ledebouriella Root)
Dan zhu ye (Bamboo Leaves and Stem)
Jin yin hua (Honeysuckle Flower)
Ma chi xian (Purslane)
Jing jie (Japanese Catnip)
Deng xin cao (Juncus Pith)
Zhi gan cao (Licorice Root)
Microcrystalline cellulose (MCC) 1%
Each batch of herbs in our products is tested in the accredited laboratory for medicines Phytax in Schlieren, Switzerland, to identify herbs, but also heavy metals (mercury, cadmium, lead, arsenic, and copper), bacteria (E. coli, Salmonella, total number of bacteria), mould, yeasts and aflatoxins. Our company TCM Herbs is the only supplier in the Czech Republic to test each batch of herbs for all herbal tables, among others for 511 types of pesticides (4 groups) because pesticides today become a worldwide problem, especially in products from the so-called Third World. Customers, in the belief that they use herbal preparations, are often, by contrast, "contaminated" with other undesirable "chemicals".
Each laboratory is different
A laboratory for dietary supplements is obliged to verify only the presence of heavy metals, mould and bacteria – but does not determine the content of pesticides. A certified laboratory for medicines, on the other hand, also identifies individual herbs and in particular tests the entire range of pesticides (at least 500 types and more). There are only a few laboratories like that in the EU and the price is adequately high. It is therefore very important today to know which laboratory tests the dietary supplement and what the tests focus on, if each batch and each herb or just a sample are tested, how many pesticides, how many additives and how many additional binding agents the product contains, etc. – otherwise consumers could be easily deceived and disappointed… (for details read Safety and quality of TCM Herbs products)
The above implies that herbal tablets and drinks of TCM Herbs are, in terms of quantity (concentration of herbs in the mixture is 5 times higher, i.e. that 1 g of a herbal tablet equals 5 g of raw herbs) and quality (absolutely unprecedented testing of each batch), among the best products we can imagine and enjoy in the area of today's Chinese medicine and natural medicine at all!